Chicken Raised Without Antibiotics

Paleo Certified

Keto Certified

Gluten-Free

Soy-Free

Dairy-Free
Recipes
We make it delicious, but you make it dinner.
2 Delicious Servings in Just 5 Minutes!
Each Pack contains:
- Paleo/Keto-Certified Sauce (4oz packet)
- Fully-Cooked Chicken (12oz packet)
Frequently Asked Questions
These can be stored in the freezer for up to 6 months, or in the fridge for 30 days. If you decide to freeze the entrées, we recommend allowing them to defrost for 12 hours in the fridge prior to cooking.
Yes! Every sauce we make is Keto-Certified by the Paleo Foundation, so our entrées are perfect for a low-carb lifestyle.
Yep! The protein in our Heat & Eat Entrée is fully cooked and perfectly tender. How do we do it? The answer is Sous-Vide!
"Sous-Vide" is a gourmet cooking technique invented by French chefs. It literally means "under vacuum". Here's how it works: First, the meat is vacuum-sealed in a pouch and cooked in a hot water bath set to a precise temperature. The meat cooks in its own juices to the perfect doneness for maximum tenderness. The result is fork-tender, fully-cooked protein that is ready for you to heat and serve in less than 5 minutes.
What are customers saying?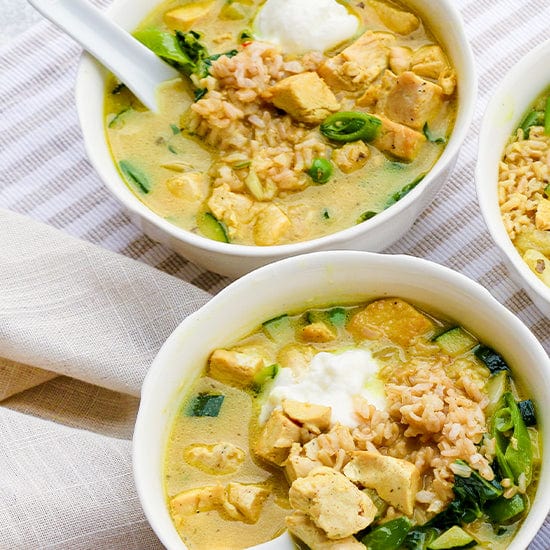 "It is to die for, I could eat it everyday."
"Looking for healthy convenience? Kevin's checks all the boxes!"
Cooking Made Easy® Cooking Made Easy®
Simply Sauté,
sauce, and
Serve!
Clean Ingredients. Full Flavor.
Nutrition Facts
About 3 servings per container
Serving Size
5 oz. (140g)
| | |
| --- | --- |
| Amount Per Serving | % Daily Value* |
Total Fat

8g

10%

Saturated Fat

5g

23%

Trans Fat

0g

Cholesterol

60mg

20%
Sodium

450mg

20%
| | |
| --- | --- |
| Amount Per Serving | % Daily Value* |
Total Carbohydrate

6g

2%

Dietary Fiber

0g

0%

Total Sugars

4g

Includes 3g Added Sugars

6%
Protein

20g
Vitamin D 0mcg 0% • Calcium 14mg 2% • Iron 1mg 6% • Potassium 568mg 10%
The % Daily Value (DV) tells you how much a nutrient in a serving of food contributes to a daily diet. 2,000 calories a day is used for general nutrition advice.
Ingredients
Chicken in chicken broth cooked out as a result of the Sous-Vide process (Boneless Skinless Chicken Breast, Water, Vinegar, Yeast Extract, Sea Salt, Onion Powder, Black Pepper, Citrus Extract), Thai Coconut Sauce (Coconut Milk [Coconut Cream, Water], Water, Coconut Sugar, Lime Juice Concentrate, Spices, Tapioca Starch, Yeast Extract, Basil, Sea Salt, Lemongrass Puree [Lemongrass, Water], Dehydrated Garlic, Dehydrated Onion, Turmeric, Xanthan Gum, Dehydrated Ginger, Black Pepper, Monk Fruit Extract).
Allergens
Coconut
Macros Per Serving
8g FATS
6g CARBS
20g PROTEIN
Customer Reviews
For Thai Coconut Chicken
---
Really Good
It was very good. I will buy again.
Delicious!
This was absolutely delicious with stir fried veggies over jasmine rice. Our family loved it!
Add coconut rice
Put on a bed of coconut rice, very good.
My Favorite of Kevin's Foods!
This Thai Coconut Chicken is so good over brown rice for a quick and easy dinner. Add a salad, and voila! Healthy meal achieved! Love the spiciness of this dish!
#KevinApproved
Review by Kevin (yes, another Kevin). Well, first off, as a Kevin myself, I couldn't resist trying a brand with such an impeccable name. And let me tell you, it did not disappoint! But seriously, folks, this stuff is the real deal. It's so natural, it's like Mother Nature herself whipped up a batch of culinary awesomeness. I've never felt so in touch with my inner caveman while devouring a 5 minute meal. Kevin's Natural Foods has officially become my go-to when I want to impress myself with a home-cooked meal (while secretly doing zero cooking). So, if you're a Kevin, or even if you're not, give Kevin's Natural Foods a try. It's like a taste of nature served up by a Kevin for Kevins (and everyone else who appreciates good food). I'm Kevin, and I gotta say, Kevin's Natural Foods is practically named after me, right? 🤣 But seriously, these meals are the real deal! #KevinApproved
Restaurant Quality
Restaurant quality dish that you can make at home, in 5 minutes!! 2023, people! Wahooo!
Fabulous quick meal
I just tried the Thai Coconut chicken tonight and all I can say is WOW! It's so fabulous!
I added a few noodles and some jalapeños but next time, I will make it with rice and some green beans.
Just love it!
Delicious
Savory! Delicious option over rice, or even by itself. Great flavor.
Amazing
This is my absolute FAVORITE food. I eat it with white rice and steamed broccoli and omg it's so good
Kid Approved
My kids love this. We have celiac, so finding healthy, fast meals is hard. I love that on a busy night I can pull out these...add some rice and we have a meal that doesn't make me feel guilty.