Beef Raised Without Antibiotics

Grass Fed Beef

Gluten-Free

Soy-Free

No Added Sugar
Recipes
We make it delicious, but you make it dinner.
2 Delicious Servings in Just 5 Minutes!
Each Pack contains:
- Paleo/Keto-Certified Sauce (4oz packet)
- Fully-Cooked Steak Tips (12oz packet)
Frequently Asked Questions
These can be stored in the freezer for up to 6 months, or in the fridge for 30 days. If you decide to freeze the entrées, we recommend allowing them to defrost for 12 hours in the fridge prior to cooking.
Yes! Every sauce we make is Keto-Certified by the Paleo Foundation, so our entrées are perfect for a low-carb lifestyle.
Yep! The protein in our Heat & Eat Entrée is fully cooked and perfectly tender. How do we do it? The answer is Sous-Vide!
"Sous-Vide" is a gourmet cooking technique invented by French chefs. It literally means "under vacuum". Here's how it works: First, the meat is vacuum-sealed in a pouch and cooked in a hot water bath set to a precise temperature. The meat cooks in its own juices to the perfect doneness for maximum tenderness. The result is fork-tender, fully-cooked protein that is ready for you to heat and serve in less than 5 minutes.
What are customers saying?
"We love this! It's very saucy and rich in flavor."
"Steak was tender, tasty, delicious, and healthy!"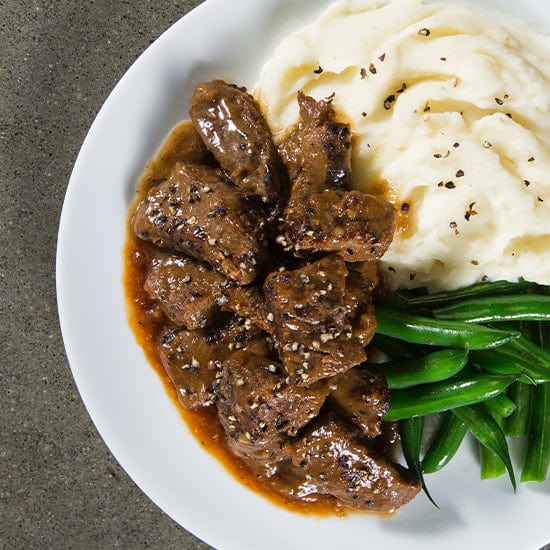 Cooking Made Easy® Cooking Made Easy®
Simply Sauté,
sauce, and
Serve!
Clean Ingredients. Full Flavor.
Nutrition Facts
About 3 servings per container
Serving Size
5 oz. (140g)
| | |
| --- | --- |
| Amount Per Serving | % Daily Value* |
Total Fat

6g

8%

Saturated Fat

2g

10%

Trans Fat

0g

Cholesterol

60mg

20%
Sodium

600mg

26%
| | |
| --- | --- |
| Amount Per Serving | % Daily Value* |
Total Carbohydrate

3g

1%

Dietary Fiber

0g

0%

Total Sugars

0g

Includes 0g Added Sugars

0%
Protein

23g
Vitamin D 0mcg 0% • Calcium 20mg 2% • Iron 2mg 10% • Potassium 592mg 15%
The % Daily Value (DV) tells you how much a nutrient in a serving of food contributes to a daily diet. 2,000 calories a day is used for general nutrition advice.
Ingredients
Grass-Fed Beef in beef broth cooked out as a result of the Sous-Vide process (Beef, Water, Vinegar, Yeast Extract, Onion Powder, Sea Salt, Black Pepper, Citrus Extract), Peppercorn Sauce (Water, Heavy Cream, Beef Stock [Beef Stock, Salt], Tapioca Starch, Beef Fat, Dried Beef Stock, Yeast Extract, Dehydrated Onion, Butter Ghee [Milk], Black Pepper, Dehydrated Garlic, Xanthan Gum, Spice, Monk Fruit Extract).
Allergens
Milk
Macros Per Serving
6g FATS
3g CARBS
23g PROTEIN
Customer Reviews
For Peppercorn Steak Tips
---
Savory!
Amazing flavor. I added some shaved ribeye to the mix, and let me tell you, it was DELICIOUS!
Easy meals!
I have been loving Kevins meals, make for quick meals when time is limited. The steak meals have all been fantasia but really loved the peppercorn!
Easy
So fast and easy to have a delicious meal in 10 minutes
WOW - flavor explosion!
Of all the flavors I bought, this was the one that I thought I might not like. Welp. I was wrong. I didn't like it - I LOVED it! When I first took the meat out of the package, I thought I detected some toughness. More on that in a bit. I sauteed some mushrooms to add to the meat, and I added them right after I added the sauce. I duly separated the food into two portions, planning to enjoy the leftovers (including sauteed zucchini) for lunch tomorrow. I devoured it! All the meat was tender and no weird softness like some meats get (if they are brined or "tenderized," for example, which of course Kevin's is not treated like that). It was so delicious; I ate both portions - oops. So much for leftovers. YUM!
Another winner
Another tasty treat! I have only run into one flavor I haven't loved thus far, and this one isn't it! Delicious!
Quick and Easy
Making dinner just got super easy and delicious. I made pepper steak using the peppercorn steak tips. I cooked up some sliced peppers and onions, you can use frozen, and then add the peppercorn steak with its delicious sauce and viola you have a scrumptious pepper steak dinner. You can't get any easier than that.
My FAVE Kevin's entree!
The quality of the beef is THUMBS UP emoji. The flavor is YUMMO emoji. Having this waiting in my fridge is HAPPY FACE emoji.
We love this one with sautéed shrooms, served over cauliflower fettuccine.
Tender!
The fact that after reheating, the steak is still tender and not chewy is AMAZING. Great flavor as well!