Chicken Raised Without Antibiotics

Paleo Certified

Keto Certified

Gluten-Free

Soy-Free

Dairy-Free
Recipes
We make it delicious, but you make it dinner.
2 Delicious Servings in Just 5 Minutes
Each Pack contains:
- Paleo Friendly Sauce (5oz packet)
- Fully-Cooked Chicken (12oz packet)
Frequently Asked Questions
These can be stored in the freezer for up to 6 months, or in the fridge for 30 days. If you decide to freeze the entrées, we recommend allowing them to defrost for 12 hours in the fridge prior to cooking.
Yes! Every sauce we make is Keto-Certified by the Paleo Foundation, so our entrées are perfect for a low-carb lifestyle.
Yep! The protein in our Heat & Eat Entrée is fully cooked and perfectly tender. How do we do it? The answer is Sous-Vide!
"Sous-Vide" is a gourmet cooking technique invented by French chefs. It literally means "under vacuum". Here's how it works: First, the meat is vacuum-sealed in a pouch and cooked in a hot water bath set to a precise temperature. The meat cooks in its own juices to the perfect doneness for maximum tenderness. The result is fork-tender, fully-cooked protein that is ready for you to heat and serve in less than 5 minutes.
What are customers saying?
"If I had to choose my last meal, it would be this!"
"Excellent! Truly fantastically delicious."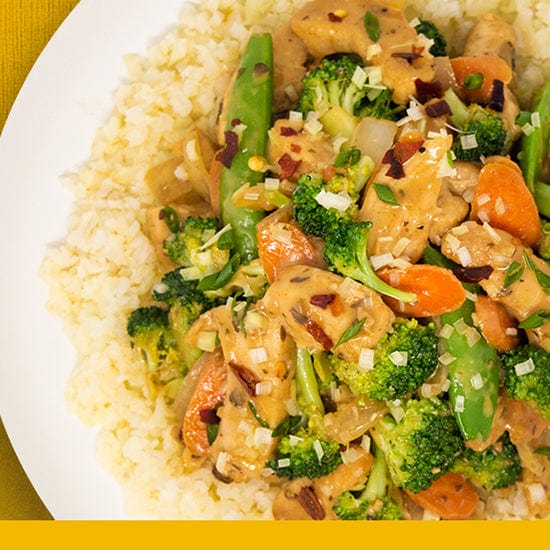 Cooking Made Easy® Cooking Made Easy®
Simply Sauté,
sauce, and
Serve!
Clean Ingredients. Full Flavor.
Nutrition Facts
About 3 servings per container
Serving Size
5 oz. (140g)
| | |
| --- | --- |
| Amount Per Serving | % Daily Value* |
Total Fat

7g

9%

Saturated Fat

5g

25%

Trans Fat

0g

Cholesterol

60mg

20%
Sodium

440mg

19%
| | |
| --- | --- |
| Amount Per Serving | % Daily Value* |
Total Carbohydrate

5g

2%

Dietary Fiber

0g

0%

Total Sugars

2g

Includes 2g Added Sugars

4%
Protein

20g
Vitamin D 0mcg 0% • Calcium 13mg 2% • Iron 1mg 6% • Potassium 546mg 10%
The % Daily Value (DV) tells you how much a nutrient in a serving of food contributes to a daily diet. 2,000 calories a day is used for general nutrition advice.
Ingredients
Chicken in chicken broth cooked out as a result of the Sous-Vide process (Boneless Skinless Chicken Breast, Water, Vinegar, Yeast Extract, Sea Salt, Onion Powder, Black Pepper, Citrus Extract), Lemongrass Sauce (Coconut Milk [Coconut Cream, Water], Water, Coconut Aminos [Coconut Nectar, Water, Sea Salt], Coconut Sugar, Lemongrass Puree [Lemongrass, Water], Basil, Tapioca Starch, Lime Juice Concentrate, Dehydrated Onion, Dehydrated Garlic, Sea Salt, Jalapeño, Spices, Apple Cider Vinegar, Shiitake Mushroom, Paprika, Yeast Extract, Ground Ginger, Xanthan Gum, Monkfruit Extract).
Allergens
Coconut
Macros Per Serving
7g FATS
5g CARBS
20g PROTEIN
Customer Reviews
For Lemongrass Chicken
---
Yummm
Delicious. I really enjoy the Lemongrass. I also love that there is enough provided to split into 2 meals!
Flavorful Protein
A great and flavorful chicken dish with so many options on how to use it. Added it rice, rice noodles, a wrap, a salad the next day. Love the versatility and taste.
Refreshing!
I have been ordering this flavor more and more! It's interesting how I'll prefer one flavor over the others for a week or so, then, my preference switches to a new one. Luckily, they have SO MANY AWESOME CHOICES!
easy to prepare great flavor
Delicious and healthy
Thus is one of my go-to's on a regular basis. I love to make this with vegetables sautéed with the chicken and serve it with naan.
Perfectly portioned for lunch!
Love, Love, LOVE the lemongrass chicken!
Super simple (and quick!) to use when meal prepping lunches for the week. Perfectly portioned - 1 bag make two lunches, when paired with steamed broccoli.
Perfectly vibrant
I was excited but hesitant to try this new chicken flavor. For me lemon grass can be extremely hit or Miss but I instantly fell in love. It has a great balance of vibrant and fresh without being sour or overbearing. I'm obsessed to say the least
Tasted like I got it from a restaurant!
I am super picky so I wasn't sure I was going to like the Lemongrass Chicken. It tasted like I got it from my favorite Thai restaurant! Two thumbs up!
Yummy
Love these meals..Easy to prepare, enough for lunch the next day.
Love this so much!
I love the lemongrass chicken. I bought two extras to share with my sister and niece, and get them hooked on Kevin's amazing foods! I have been a fan of the sauces for a while, but just started ordering the proteins and couldn't be happier.