Chicken Raised Without Antibiotics

Paleo Certified

Keto Certified

Gluten-Free

Soy-Free

Dairy-Free
Recipes
We make it delicious, but you make it dinner.
2 Delicious Servings in Just 5 Minutes!
Each Pack contains:
- Paleo/Keto-Certified Sauce (4oz packet)
- Fully-Cooked Chicken (12oz packet)
Frequently Asked Questions
These can be stored in the freezer for up to 6 months, or in the fridge for 30 days. If you decide to freeze the entrées, we recommend allowing them to defrost for 12 hours in the fridge prior to cooking.
Yes! Every sauce we make is Keto-Certified by the Paleo Foundation, so our entrées are perfect for a low-carb lifestyle.
Yep! The protein in our Heat & Eat Entrée is fully cooked and perfectly tender. How do we do it? The answer is Sous-Vide!
"Sous-Vide" is a gourmet cooking technique invented by French chefs. It literally means "under vacuum". Here's how it works: First, the meat is vacuum-sealed in a pouch and cooked in a hot water bath set to a precise temperature. The meat cooks in its own juices to the perfect doneness for maximum tenderness. The result is fork-tender, fully-cooked protein that is ready for you to heat and serve in less than 5 minutes.
What are customers saying?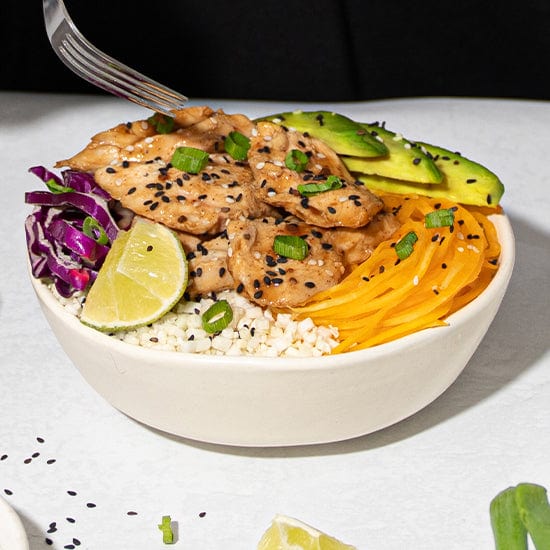 "Absolutely Delicious! Perfect For My Gluten Free Diet"
"A quick and delicious meal mid-week!"
Cooking Made Easy® Cooking Made Easy®
Simply Sauté,
sauce, and
Serve!
Clean Ingredients. Full Flavor.
Nutrition Facts
About 3 servings per container
Serving Size
5 oz. (140g)
| | |
| --- | --- |
| Amount Per Serving | % Daily Value* |
Total Fat

3.5g

4%

Saturated Fat

0.5g

3%

Trans Fat

0g

Cholesterol

60mg

20%
Sodium

600mg

27%
| | |
| --- | --- |
| Amount Per Serving | % Daily Value* |
Total Carbohydrate

7g

3%

Dietary Fiber

0g

0%

Total Sugars

5g

Includes 1g Added Sugars

2%
Protein

20g
Vitamin D 0mcg 0% • Calcium 10mg 0% • Iron 0mg 0% • Potassium 560mg 10%
The % Daily Value (DV) tells you how much a nutrient in a serving of food contributes to a daily diet. 2,000 calories a day is used for general nutrition advice.
Ingredients
Chicken in chicken broth cooked out as a result of the Sous-Vide process (Boneless Skinless Chicken Breast, Water, Vinegar, Sea Salt, Yeast Extract, Citrus Extract, Cultured Onion Juice, Black Pepper), Korean BBQ Sauce (Water, Coconut Aminos [Coconut Nectar, Water, Sea Salt], Coconut Sugar, Vinegar, Roasted Sesame Oil, Tapioca Starch, Lemongrass Puree [Lemongrass, Water], Yeast Extract, Dehydrated Onion, Spices, Dehydrated Garlic, Cilantro, Shiitake Mushroom, Xanthan Gum, Sea Salt, Sesame Seed, Dehydrated Ginger, Monk Fruit Extract).
Allergens
Sesame
Macros Per Serving
3.5g FATS
7g CARBS
20g PROTEIN
Customer Reviews
For Korean BBQ Chicken
---
Very Tasty!
I love this dish, it's moist chicken in a sweet BBQ sauce. I absolutely love it, but not my husband. He says it's too sweet for him, he favors tangy BBQ, I love sweet. I only make this one occasionally because of my Husband, but if you are more into sweet sauces, you'll love this! Of course the easiest meal you can make when the entree is done in 4 minutes. To make up for the sweetness for my Husbands sake, I add a lot of finely chopped green onions to this after cooking then he likes it enough for us to have occasionally.
Down Right Delicious
Stumbled on these at my local grocery store. So good that I found their website, ordered and bunch more, and 100% leaving 5-star reviews! 5 minute dinner!? Yes, please!
This is likely my favorite flavor, for Chicken or Beef. SOOOO GOOOOD
This is my go-to flavor. Doesn't get old. The quality is consistent. Korean BBQ FTW!
Fantastic and healthful shortcut dinner
I purchased this at Costco, am not one to buy processed foods but after reading the ingredients and nutritional information I decide this is something worth a try and I'm so glad I did. I cooked up some jasmine rice, cut up some red and yellow peppers and onions and Zapped some broccoli florets in the microwave. I added the veggies to the chicken sauteed for 3 or 4 minutes then added the sauce. Served it all over a better price so delicious this has earned a spot in my refrigerator for a healthy, tasty, quick dinner!
How can this be so good??
My local grocery store has a sale on the chicken entrees, and even though I have 11 - yes, eleven! - entrees in my freezer already, I had to indulge. I bought the mashed cauliflower too. I decided that this went the best with the mashed cauliflower, so I made it. I was more aggressive about breaking up the meat in the package and drained it in a colander rather than just squeezing it out from the bag. I added some summer squash and zucchini that I had cut up for a different dish and added it right before the sauce. WOW - another delicious dinner! Once again, I had intended to make two meals of this, but it was too good. I ate it all. Ahhhh. These entrees are supposed to be treats when I don't have enough time to cook something that takes longer, but even thinking about it makes me want to make another - and it is only 8 am! The cauliflower was wonderful too, but I will review that separately. Every dish I have had scores five stars! ⭐⭐⭐⭐⭐😍
Tasty!
I like this one. The sauce is flavorful and it is not spicy at all. We usually eat it over some white rice. My kids even like it.
tasty and quick
Great flavor and so easy to make. All of these chicken dinners allow for adding your favorite veggies to make a quick, easy, healthy meal
A consistent favorite
This dish was our first Kevin's experience and it convinced us to go all in. Every selection has been delicious and appealing; we often serve for guests.